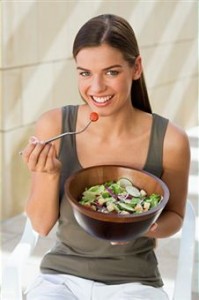 Dental crowns give you more reasons to smile. This is because teeth crowns, as they are sometimes called, provide an affordable and easy smile makeover solution. If you have teeth that are weak, severely stained, cracked, or misshapen, Dr. Peter Engelsberg, your Sarasota Florida cosmetic dentist at Midtown Dental Center, can tell you if dental crowns are right for you and make you smile with confidence again.
Tell me more about dental crowns
Teeth crowns or dental caps are used as a smile makeover procedure to improve your smile by restoring decayed teeth and those that are cracked, chipped, deformed, or severely discolored.  Your Sarasota Florida cosmetic dentist uses a dental crown made of porcelain or ceramic material to cover an entire tooth.  Dr. Engelsberg will also make sure your dental caps match the natural color of your teeth for a natural look of even-shaded teeth.
Uses for teeth crowns
Your Sarasota Florida cosmetic dentist can tell you if dental crowns are the best option for you if you go to Midtown Dental Center for a consultation regarding issues with your teeth, which you want to get corrected. Teeth crowns are also used with failing root canals, bridgework, and dentures.  Porcelain crowns are excellent for covering those unsightly metal fillings for a better smile.
Dental crowns also strengthen and protect weak teeth and make them durable. Good quality teeth crowns from your Sarasota Florida cosmetic dentist make you enjoy eating your favorite foods because these crowns can last a long time when properly cared for. Taking care of your dental crowns means going to your dentist regularly and observing good oral hygiene by brushing and flossing daily.
Are dental crowns right for me?
Your trusted cosmetic dentist will tell you how getting dental crowns can benefit you in a variety of ways:
Stop tooth decay and enjoy having strong teeth with teeth crowns.
Cover teeth cracks, stains, and other dental problems that cause you to hide your smile.
Dental crowns provide an easy and affordable way to a healthier and more confident smile.
Enjoy having greater self-esteem with teeth you would be proud of showing anytime and anywhere.
Call or visit your Sarasota Florida cosmetic dentist today at Midtown Dental Center and stop hiding your smile! Dr. Peter Engelsberg will be happy to discuss the procedure for dental crowns in a smile consultation and answer any questions you may have.